Our 1st Birthday Party, Coming Up at Fit Clinic (v2.0)
We are holding Party for Fit Clinic's 1st Birthday (v2). We'd love for you to attend and feel free to bring family or friends that might (they will; obviously) enjoy it!
Saturday 3rd March 2018
8:30am -12:30pm
Schedule
? 8:30am – 10:00am – FIT SESSIONS / RESTORE GROUP WORKOUT
?10:30am – 12:30pm – LUNCH + SOCIAL
*Members, clients, health professionals, family and friends welcome
We will have games, prizes & merchandise available on the day
If you have any dietary requirements please let us know.
RSVP 1st March 2018 
RSVP by sms: 0431 636 618 / FB Message or email info@fitclinic.com.au)
Hosted by Fit Clinic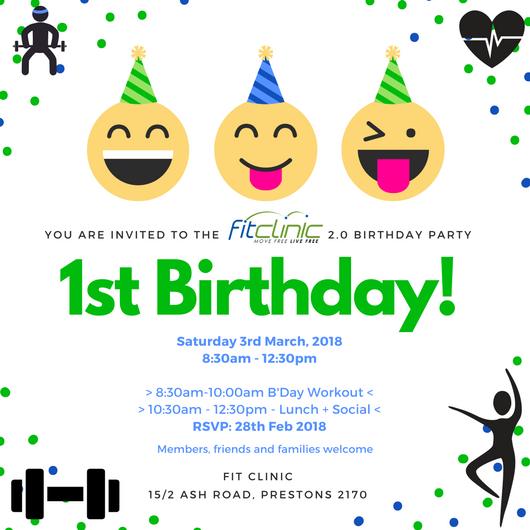 We officially opened on the 27th of February 2017 with the second incarnation of Fit Clinic. Hence Fit Clinic 2.0
We just outgrew the space of the original Fit Clinic, and we had some big plans we couldn't achieve in our smaller, original space. We are now running a private gym, exercise physiology, personal training, podiatry and remedial massage from our facility.
We are well on our way to changing the status quo of how gyms and allied health facilities are run, combining the best of both worlds in a private facility, making sure the focus is on achieving the clients goals. Most places offer an "all access, no service" model. We "only" open for 14 hours a day but provide full availability to allied health professionals during this time.