Preseason Preparation: Wheel Chair Basketball
The Season Is Fast Approaching
The Wheelchair Basketball season is fast approaching with competition set to begin in May. Z one of our Fit Clinic Spotlight superstars has been training hard to ensure her readiness for the basketball season.
Andrew has been pushing Z to her limits. Heavily focusing on upper body strength, core strength & conditioning specific to the requirements of her sport.
Z's ambitions include completing 5 chin-ups, getting down the court faster & reducing times dropping the ball on pickup. These goals as well as improving overall function are at the top of our list when designing Z's programs.
Here's an insight into Z's training at Fit Clinic
Chin Ups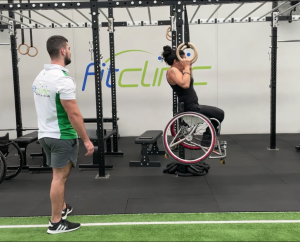 Zig Zag Drill
Shuttles & Cardio
Wheelchair Basketball
Ever thought about participating in wheelchair basketball? Head to https://www.sports.org.au/wcbasketball to learn all about who can participate, where to participate & how to play.
Alternatively, If you already play wheelchair basketball & need some help with getting stronger, give us a call on 1300 397 497 to find out how we can help!