BlueAnt Pump HD Wireless Sportsbuds (Review)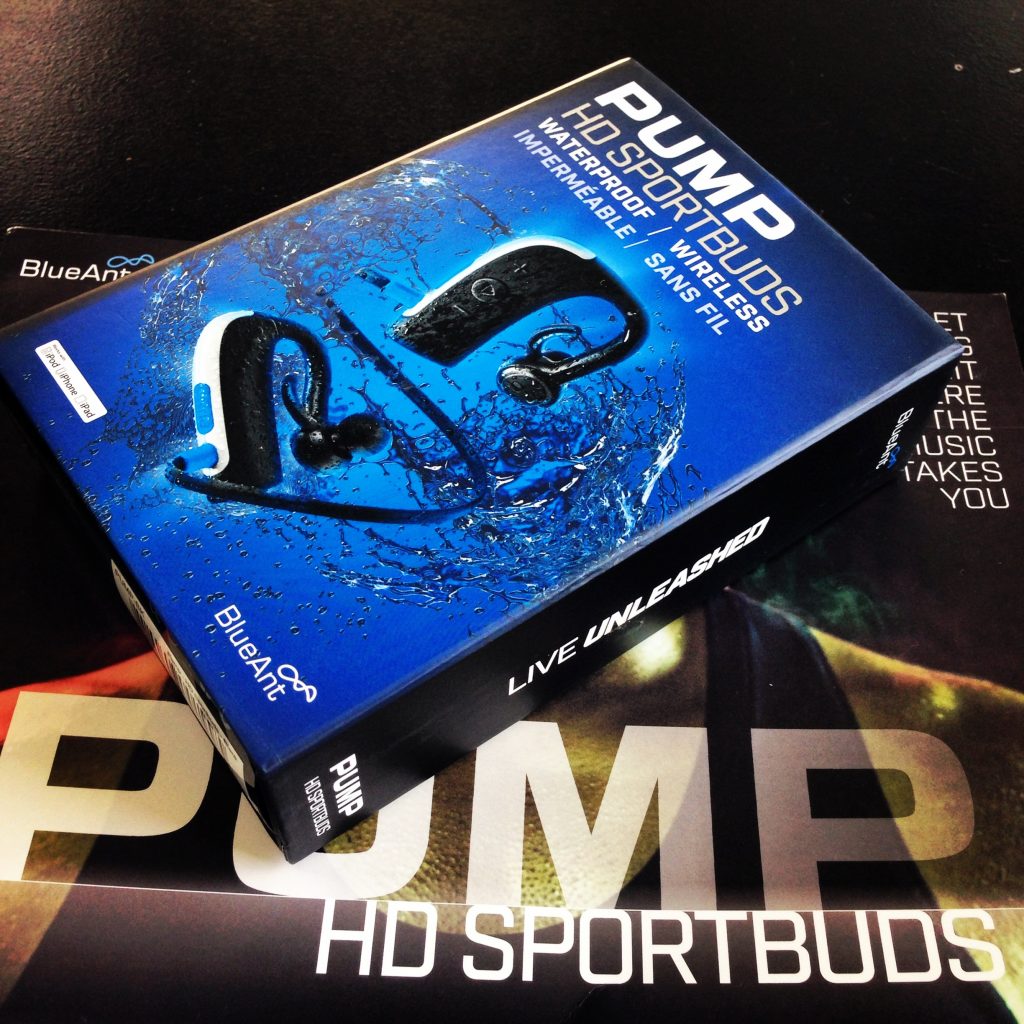 To be honest I was pretty excited when the BlueAnt Pump HD sportsbuds arrived in the mail. I couldn't wait to test them out. Why was I excited? Because the specs sheet read like a dream. It was everything I wanted in a headset for fitness. Previous headphones I've tried were a let down one one way or another.
The specs I was after were as follows.
1: It doesn't fall out of my ears. (Can't get into the exercise rhythm when they fall out every 15 seconds)
2: Wireless. (That way I don't need my phone within, it could be nearby or in a bag)
3: Reasonable sound quality (I know there's a slight compromise compared to wired)
4: Reasonable battery life. (This is the least necessary if it ticks all the rest)
5: Can stream music from my phone (To carry less items when exercising, Or I can even leave my phone in a locker in the gym)
6: Can take calls. (Versatility)
I've previously used the Jabra Sport Wireless, which missed on 2 points. The battery life was poor and would only last 2 hours. I was willing to look past that. Although I had two units which both had total failures within 3 months. I also used Sportzbeatz Motion+. I couldn't get the damn things to stay in my ears for longer than 30 seconds; even with the supposed secure fit. It was so off putting, I preferred to exercise without any. That's why 'over ear' was the only choice for me.
That's why I was so excited. It seemed to tick the boxes and stand up where the others failed. The fact it's classed as waterproof, hopefully meant it wouldn't fail with a bit of sweat. New headphones are a great motivation for a good quality session. 5 days later and I'm still sore from the session. Talk about putting them through their paces.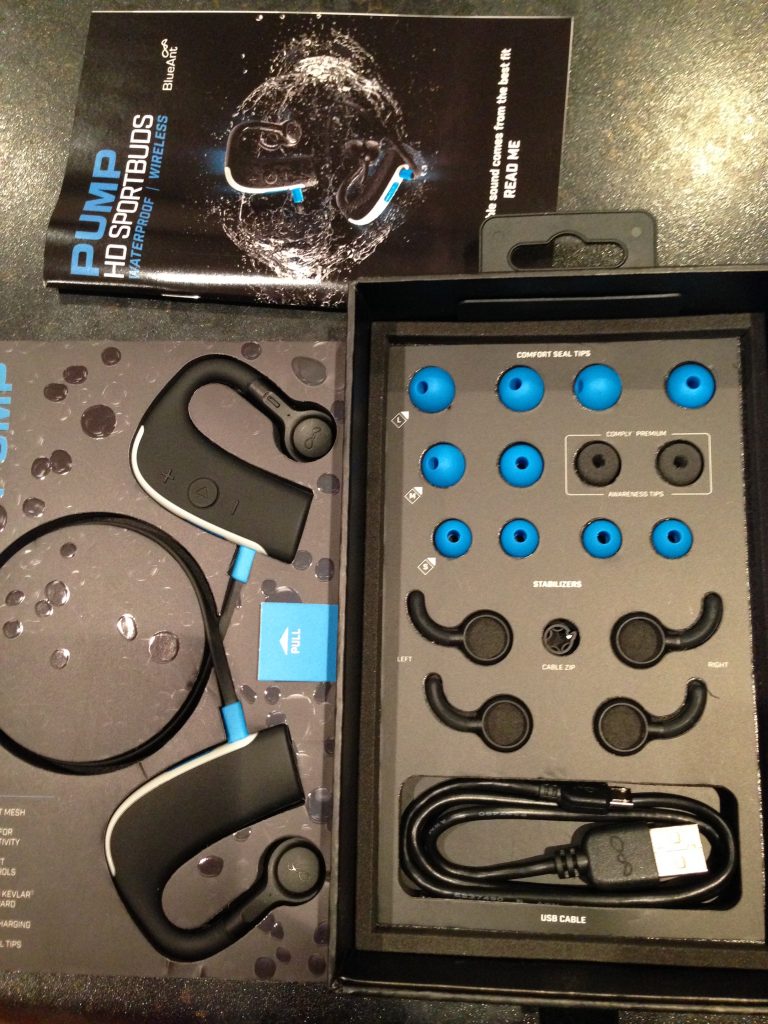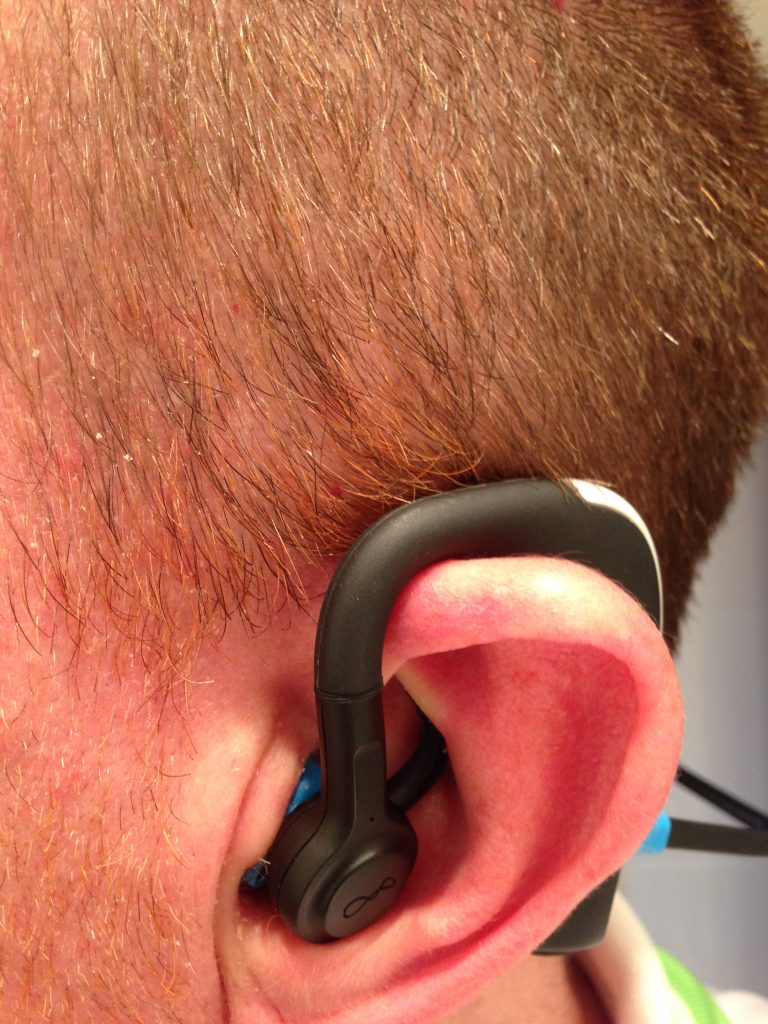 Upon first opening I was very surprised with it. Two of everything, just about. Great for the people that tend to lose an ear bud or two. They arrive with small, medium and large earbuds, as well as an 'awareness' set. Essentially a foam ear bud to go road running and still hear the ambient noise. I did place them on and test it out. I personally didn't like the awareness buds. Too much noise, although I only tried them in the gym. I can see their use outdoors! The medium rubber set that comes installed was just right.  I preferred the rubber ear buds, they're quite good at blocking out the outside noise. I couldn't hear anything other than a mumble when someone inevitably wanted to talk to me. On one hand I needed to take them out to hear someone (Not that I really wanted to), on the other, I actually liked blocking out the noise. It kept me focussed on doing my own training, and get lost in the music. 
It was simple to install the secure clip, slip them over my ears, tilt them back slightly to get the secure clip to sit into the ear groove.
I put them through their paces. The moment I put them on, I immediately did TEN burpees, then decided to head-bang, channelling Dave Grohl in a Smells Like Teen Spirit video. If anything was going to dislodge them, it was that. NOPE! And for anyone under 25. Yep Dave Grohl was the drummer in the biggest band at the time before becoming the Singer/Guitarist in the Foo Fighters. But I digress. 
Later that day I pumped (pun intended) through a functional routine consisting of chin ups, bench presses, free weight squats and a few deadlifts for good measure followed by a 3km interval run, I found I'd used about 15-20% of the battery. You'd probably get a week of use out of the charge. Decent considering the performance.
The only negatives I could find were few. In my opinion a small offset for the positives. When I laid my head back for the bench press I would press on the moderately stiff cord. It doesn't hang down, it essentially stays horisontal between the earpieces. When I laid back I laid on the wire and it would move the earpieces forward in my ear. The other con I found was the right secure clip hurt my ear after about a minute. Then I managed to get used to it and it went away after a few more minutes. Unclipping it, would elicit that same response I'd forgotten existed. It only happened to my right ear. The same ear other headphones always fall out of first. Who knows, I probably different ear canal shapes. I guess we're all a little unique.
Taking all that into account. Would I recommend purchasing this set? Absolutely.
Play time: Up to 8 hours
Standby time: 2 weeks
Charge time: 2 hours
Bluetooth: 3.0
Profiles: A2DP, AVRCP, HFP, HSP
Codecs: APTX, AAC
Warranty: 12 months
Aaron King
Exercise Physiologist & owner of Fit Clinic